Losing a beloved furry child is every pet parent's worst nightmare.  So many things can happen when they are off on their own.  Would you know what to do if you lose your dog in Marinette?
Time is of the essence when a pet is lost
Hopefully, you will have some help in accomplishing the following tasks which should be done IMMEDIATELY upon losing your pet.
Spread the word. Post on your personal social media page and local community pages as well as Lost Pets of Marinette/Menominee on Facebook and your neighborhood on nextdoor.  Be sure to include a great photo of your pet, the date, time, and location your pet was last seen.  All of this information can be helpful in finding your pet and getting accurate leads on their whereabouts.
Call the police, local veterinary offices (Bayshore, Town & Country, and Peshtigo Vet), and the Menominee Animal Shelter. Ask if anyone has brought in a pet matching the description of yours, and alert them that your pet has gone missing.  Give them your phone number so they can contact you if your pet turns-up.
If your pet is microchipped, contact the company you are registered with so they can sound the alarm.
Set out items that your pet loves, and that your pet can smell! Put them on the porch or in a garage with an open door.  Things like their bed, their food and favorite toys will be great, as well as something with the scent of their favorite person.  A recently worn T-shirt, pajamas, or a blanket off the bed will work.
Hit the streets! Go door to door, drive the neighborhood and ask everyone you see, if they have seen your lost dog.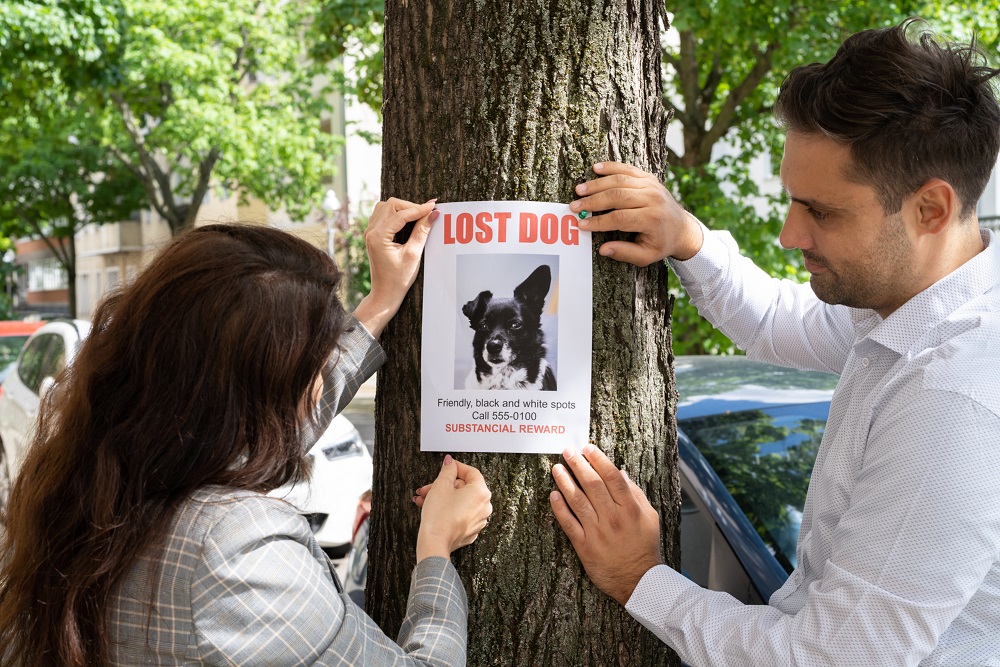 Next Steps
If your pet is still missing after 8 or 10 hours, DO NOT GIVE UP!  Repeat everything you did from the list above.
Check your social media posts. Have there been any sightings of your lost pet?  Follow up on them, and post again -more photos, and be specific when posting about last sightings – where was your dog last seen, what day, and what time?
Check in with the local police, veterinary offices, and the Menominee Animal Shelter AGAIN. Do they have any news on your missing pet?
Make posters and yard signs. They should be brightly colored with a large photo and print large enough for drivers to see from their cars.  Weatherproof them with rolls of clear carpet protector.  Post them at intersections with stop signs and stop lights in the areas where your pet has been sighted and near where the pet went missing.  Include your phone number!
Recruit volunteers to distribute flyers in your neighborhood as well as the areas where you have confirmed sightings of your lost pet. Keep track of what streets flyers are being distributed on so you don't waste time duplicating.
Days Two-Four
Keep the faith and repeat!  Some new things you can do once you have your army of volunteers helping you:
Physically visit the Menominee Animal Shelter, look at the dogs they have in the back yourself and leave some flyers with your lost pet's photo.
Stop in at the veterinary offices to see if anyone has brought in an injured pet that could be yours and again, leave flyers.
Go to the police station and leave flyers so each officer has a photo of your lost pet when they are out on patrol.
Widen the search by dropping flyers at the local groomers, Mighty Pet and Petco. If your pet was stolen, rather than lost, it is a good idea to make sure all of these places have a photo of your pet in case they recognize them as a "new client".
Scour the internet. Check you posts for new sightings and follow up.  Check the social media pages and websites of local animal rescue groups.  A Good Samaritan may have taken you dog to a rescue without trying to find you first!

Consult with a professional
A week goes by and you aren't having much luck finding your dog.  Know that there is still more you can do to bring your pet home, like setting live traps and putting up trail cameras in the area of any sightings.  There are also professional organizations who specialize in finding lost pets like Dogs Finding Dogs.  The most important tip is to stay positive and never stop looking.  Just widen your search area.  We have all heard the stories of pets found hundreds or even thousands of miles from home, YEARS later!  That happy ending could be yours.
Check out more great pet information on our website! Marinette DOG Nanny