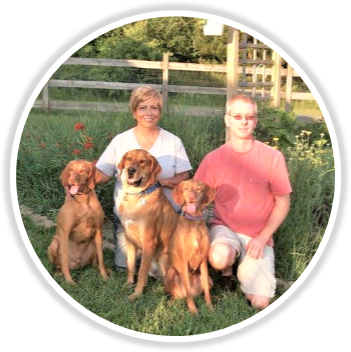 Hello!  I'm Jody Coopmans, Founder of The DOG Nanny Group, LLC.  Originally from Westerville, Ohio, I graduated from The Ohio State University with a bachelor's degree in business administration.  I married my husband, Cory (who is from Green Bay) in 1994 and we settled in Marinette in early 1995.  My business degree led to a successful career in retail where I spent much of my time traveling and opening stores for the various companies for which I worked.  I said goodbye after 20 years in the industry when I decided I wanted more time to enjoy life at home with my husband and pets.
While I was home, I needed something to fill my days.  I also wanted to give back and be of service to someone who could use my help.  Being an animal lover, and a mom to 2 dogs, the Menominee Animal Shelter was the obvious choice.  I loved volunteering there; walking dogs and doing whatever I could to make their stay at the shelter a little easier.  Of course, during this time I met and fell for a spectacular hound named Buster.  He had been at the shelter for a month with no inquiries and his future wasn't looking good.  He and I hit it off right away and while he did have some issues, we had formed a bond that would see us through them all!
In 2010 my husband started asking me about that 4-letter word W-O-R-K!  I was not prepared to go back to corporate America, and after nearly 2 years of being home with my furry kids, I knew there was no way I could ever leave them home alone, cooped-up all day again.  A friend asked me what brought me joy and the answer was clear – animals!  It was then that I started researching professional pet sitting and putting together a business plan.
I started The DOG Nanny Group in 2010 with the goal of providing personalized, professional, in-home pet care in Marinette, Menominee and Peshtigo; something that was lacking in our small community.  Right away people were very interested in what I had to offer and I knew I had made the right decision, especially with all the wagging tails and sweet faces greeting me every day.  This was the excitement and fulfillment I was looking for in a career.  The business took on independent contractors to help care for all the pets in 2011, and contractors became employees in 2015 so that 'The DOG Nanny way' could be taught to each staff member in order to uphold the high standards on which our clients came to rely. After years of success I am proud of this extraordinary business that helps give people and their pets some comfort when they have to be apart.
What's our 'secret sauce'? I care about each client pet as if they were a member of my own family.
When not caring for client pets, I enjoy spending time with my own furry family, including Buster, the rescue Hound mix (a senior now), Toby, a seven year old Vizsla we adopted from a family in Colorado Springs in 2019, and our newest addition, Olive.  Yes, a Vizsla COVID pup we brought into our family in November of 2020.  I love being outdoors in the summer, getting caught up in a good book and spending time with my husband Cory!
Contact us to set up a consultation.  We can't wait to meet you and your pets and welcome you into the DOG Nanny family.
What Makes Us So Special?
We realize you have a lot of choices for pet care.  You could have a friend, family or the kid down the street check in on Fido and Fluffy.  You might also consider an App based tech company – an 'Uber' for your pet or send them to a kennel while you're away.  But are these really the best we can do for our pets?  Remember that old adage you get what you pay for – it certainly is something to think about when making plans for your pet.  Sometimes the cheapest option can actually be your most expensive choice!
Below are the things that set us apart:



Our Mission is to deliver a client experience beyond expectation.  We achieve that through client partnership, and personalized one on one care.  We offer PEACE OF MIND by providing reliable, trustworthy, loving care throughout the lifetime of our client's pets.  We consider it an honor to be a part of the special bond our clients share with their pets and a privilege to serve them both.
Compassion – love animals & embrace our responsibility
Communication – open, honest relationships with our clients
Teamwork – build a positive team with a family spirit
Integrity – do the right thing
Accountability – through responsible, exceptional service
Community – doing well by doing good for others
Organizations We Support
We support the Menominee Animal shelter.  They care for the homeless animals in Marinette and Menominee counties until a loving forever-home is found.  People who can no longer care for their pets can take them to the shelter at no charge and give their furry pals a second chance at life.  Lost pets who are found can be taken to the shelter for a safe place to stay until they can be reunited with their family.  You can help the shelter through monetary, tax-deductible donations, purchasing supplies from one of their "needs" lists, donating aluminium cans, or purchasing a pre-made supply bag at Jack's Fresh Market.  One of the best ways to support the shelter is by adopting one of the many pets they see every year and giving them a soft place to rest their head.  A RESCUE is the best breed you will ever love!