Personalized Care for your Feline Friend and Other Small Pets
Cats can sometimes come off as being independent and self-sufficient. But they look to their humans for not only food, but love, comfort and companionship as well. So when you're away – whether it's for a week or a day – it can create stress and boredom for your feline friend.  Let's not even get started with the trouble they can get themselves into when left to their own devices!
With our expert cat sitting services, you can relax knowing that your finicky feline is being cared for by a professional, dedicated pet sitter in the comfort of your own home. We'll make sure your kitty has everything they need to be healthy and happy while you're gone. Our services are tailored to accommodate your cat's personality, quirks and needs. So whether your kitty craves extra playtime, lives for lots of affection or just wants to be left alone, you can rest assured that we'll pamper your pet just like you would. Daily updates and cute photos of your pet are included with every vacation reservation so you are kept up to date with how they are doing. Plus, we'll make sure your house is safe and secure, too, by giving it that "lived in" look while you're away. Our service provides that peace of mind you need to enjoy your trip guilt-free!
Does scooping the cat box and sweeping up litter every day have you down?  Hate sanitizing the box and changing the litter every few weeks?  No problem!  We can get you set up on a weekly routine for scooping and general kitty Maintenance Care.  You don't even have to be gone!
Having a difficult time finding someone knowledgeable to care for your small caged pet?  We have experience with ferrets, guinea pigs, rabbits, fish, and ducks!  We will stop by once or twice each day for feeding, a water change, clean-up and to make sure everything is good with your little friend and your home.
Depending on your needs, our services can include:
Feeding meals/refreshing water
Administering medication
Scooping the litter box
Playtime, snuggles and treats
Overnight stays
Alternating lights, blinds and shades
Watering a few indoor plants
Bringing in the mail and newspaper
Lots of love, affection and attention
Get started by setting up an in-home consultation. Contact us today to see what a difference we can make for you and your pet!
Cat Sitting Services + Rates
We make cat and critter sitting easy and affordable. If you have a special request, just ask!
30-minute cat vacation visit or maintenance care
$24
45-minute cat vacation visit or maintenance care
$31
60-minute cat vacation visit or maintenance care
$39
Overnight Cat & Critter Sitting – see Overnight Pet Sitting page for details.
* Base prices include 2 pets in the home. More pets may require more time.
* Additional charges apply on & around holidays and when traveling to homes outside city limits.
There is no additional charge for administering oral medications.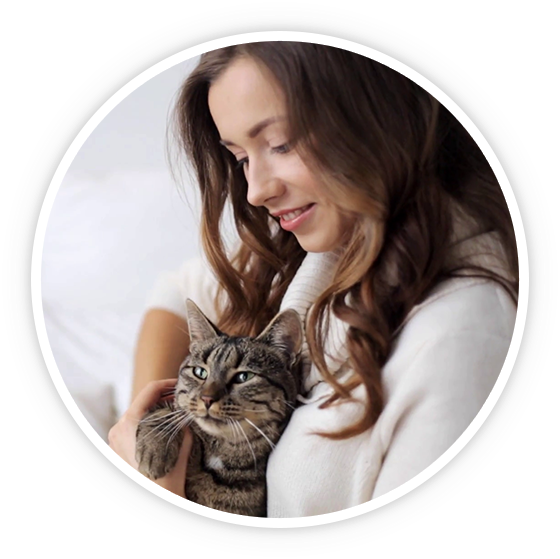 "I have had The DOG Nanny Group care for my kitties for a few years now and they always provide excellent care. Scheduling two visits each day allows the Nannies to follow the routine my cats are used to. They send pictures every day while we are on vacation, administer medications as needed and my cats are calm and happy when we return. It's nice to know everything is going well at home while we are gone."
Kathy G., Menominee MI